The Benefits of a Water Butt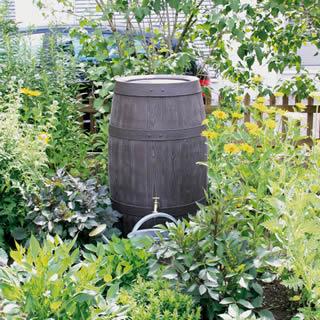 It is no secret that plants require water in order to survive and thrive, however, a poor delivery system can lead to a lot of water wastage and subsequently, expensive bills for the property owner. Here at Easy Garden Watering, we are committed towards delivering our clients with an affordable yet reliable solution to all their water related worries. Read on as we go over some of the different benefits that a water butt can offer...
A water butt helps reduce water waste
Manually watering a garden using a hose can actually lead to a considerable amount of water wastage because it is very difficult to accurately measure the amount that is being used. Since a water butt collects rainwater that can be reused in order to water plants or even wash a car, the amount coming from a property owners mains supply is reduced, conserving water and reducing bills at the same time.
Using rainwater is good for plants
Whilst it is perfectly acceptable to water plants using the mains supply, it is important to remember that there are a lot of chemicals, minerals and salts that are found it in too. After all, treated tap water is made with people in mind and not plants. As a result, watering your plants with the rainwater collected from a water butt can make them very happy because it is softer and does not contain harmful ingredients.
Water butts are incredibly durable
With a variety of different styles and designs on the market, most water butts are crafted with longevity in mind which means that property owners often view them as an investment for the future. After all, they can last for years at a time with the correct care and attention and since they are made to be outside, they are also less vulnerable to weather related damage.
Here at Easy Garden Watering, we believe that garden maintenance shouldn't take up valuable time and that is why our range of automatic watering systems are designed with time saving qualities in mind in order to deliver a system that allows the property owners to take care of the things that really matter. In fact, they can also work in harmony with water butts in order to reduce water wastage efficiently and affordably. Get in contact with a member of the Easy Garden Watering team to find out how you can improve the watering system in your garden today!