Harvst WaterMate Watering Systems and Mini Greenhouses
Harvst's WaterMate Success And Latest Line-Up
If you're looking for an automatic watering system to help you reach your every green-fingered goal, you'll want to discover how WaterMate can benefit you.
Our latest Harvst products intend to save gardeners and growers time and protect crops with features including self-watering and email notifications to keep you updated about everything you need to know. Read on to discover more about WaterMate and the greenhouse range you can apply it to.
What is WaterMate?
Our WaterMate automatic solar watering systems efficiently use up less water than a regular timer, meaning you can start saving money on water and help our environment thrive. This Made-in-Britain system can pump water from a tank; alternatively, you can connect it to a garden tap. You can choose from the Mini kit for smaller greenhouses and Pro kit for larger ones.
There are many reasons why consumers have been attracted to WaterMate so far. Indeed, it is the only automated sensor-based and genuinely smart irrigation system specifically designed for domestic greenhouses and polytunnels. It can, however, also be utilised for watering raised beds, pots, allotments, and more. As the most customisable and powerful system out there to be accompanied by a digital grow diary and community, this system comes complete with everything you need in one box.
The Mini kit
The Mini kit is ideal for those with 6' x 8' greenhouses and can support up to the equivalent of 40 drippers at 4lph or 12 sprayers. Covering 6m2 of squared coverage, it has been designed to water your plants with a blend of environmental sensors and timers, ensuring that they get a suitable amount of water. The kit has a 10W solar panel but can also power off 240V mains - the choice is yours. Solar comes with a vast array of benefits including its money-saving aspects, not mentioning how environmentally friendly it is. WiFi is enabled for this mini kit, ensuring that you can control it and receive email alerts about it when you are elsewhere.
The Pro kit
The Pro kit offers a higher-capacity system, making it ideal for larger greenhouses and polytunnels. Supporting up to 120 drippers or 40 sprayers for 40m of squared coverage, this kit, like the mini kit, enables WiFi, comes supplied with a solar panel or power off mains, and even has dual watering zones for maximum capacity. With this kit, you can start being more eco-friendly, conserve water, and enhance plant growth.
Whether you want to water your crops multiple times a day or just weekly for varying durations, you can set your preferences accordingly. This also makes it easy to water your plants more on hotter days and less on colder days, meaning your plants will neither get dried out nor waterlogged. Gardening enthusiasts who are trying to save money will find this handy as it prevents you from using more water than you need.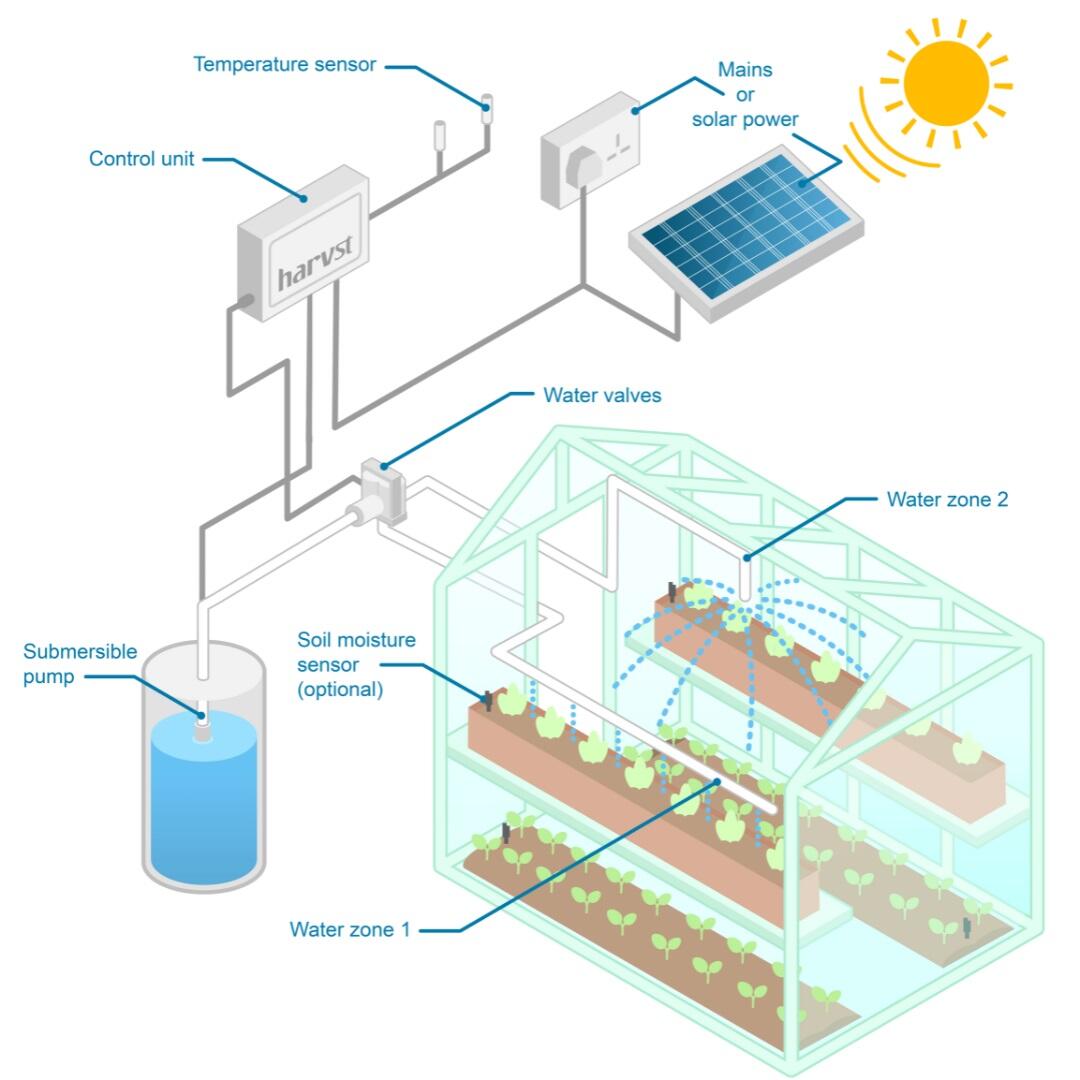 Our Range of Greenhouses
Now that you know a bit more about WaterMate, it might be worth checking out the different miniature greenhouses we have on offer to apply the watering system to.
If gardening is one of your fondest hobbies, you'll know what critical role greenhouses play in modern agriculture in the UK. Along with offering a handy foundation for optimising plant growth, greenhouses can protect crops and help gardeners' passions thrive in a sustainable setting.
All the models are designed to have a high-capacity performance with a small environmental footprint, ensuring gardeners can do their bit for our planet. These models are also ideal for growing microgreens, which are stuffed with vitamins and antioxidants which are fantastic for physical health.
Harvst S10 Mini Greenhouse
The Harvst S10 can fit up to ten trays and comes with an insulated back panel, meaning that you can place it anywhere you want with the brackets to secure it. This frame's robust, reliable structure will help this greenhouse withstand whatever the typical UK weather has to throw at it. It comes with automatic ventilation, heating, watering, and lighting, making it easy to control via the efficient web app. With adjustable shelving, protecting and growing crops in a compact space has never been easier. Additionally, these products come with plenty of other benefits, including efficient ventilation and plant protection against diseases and pests.
Harvst S24 Mini Greenhouse
The Harvst S24 miniature greenhouse is a must-have for those with a genuine enthusiasm for gardening and growing crops, measuring 150cm high, 120cm wide, and 50cm deep. This product takes up around the same space as a bench, but it can fit 24 standard-sized seed trays and is ideal for an urban back garden. Along with its adjustable shelves and automated characteristics, users can also choose to utilise their own tubs, containers, or pots on the mesh shelves. You don't have to worry about this product's frame – its structure is robust and comes with protective panels and brackets made to last. Its automatic ventilation, lighting, heating, and watering system can be carefully adjusted via the web app, making it effortless for gardeners to control this ultimate growing machine!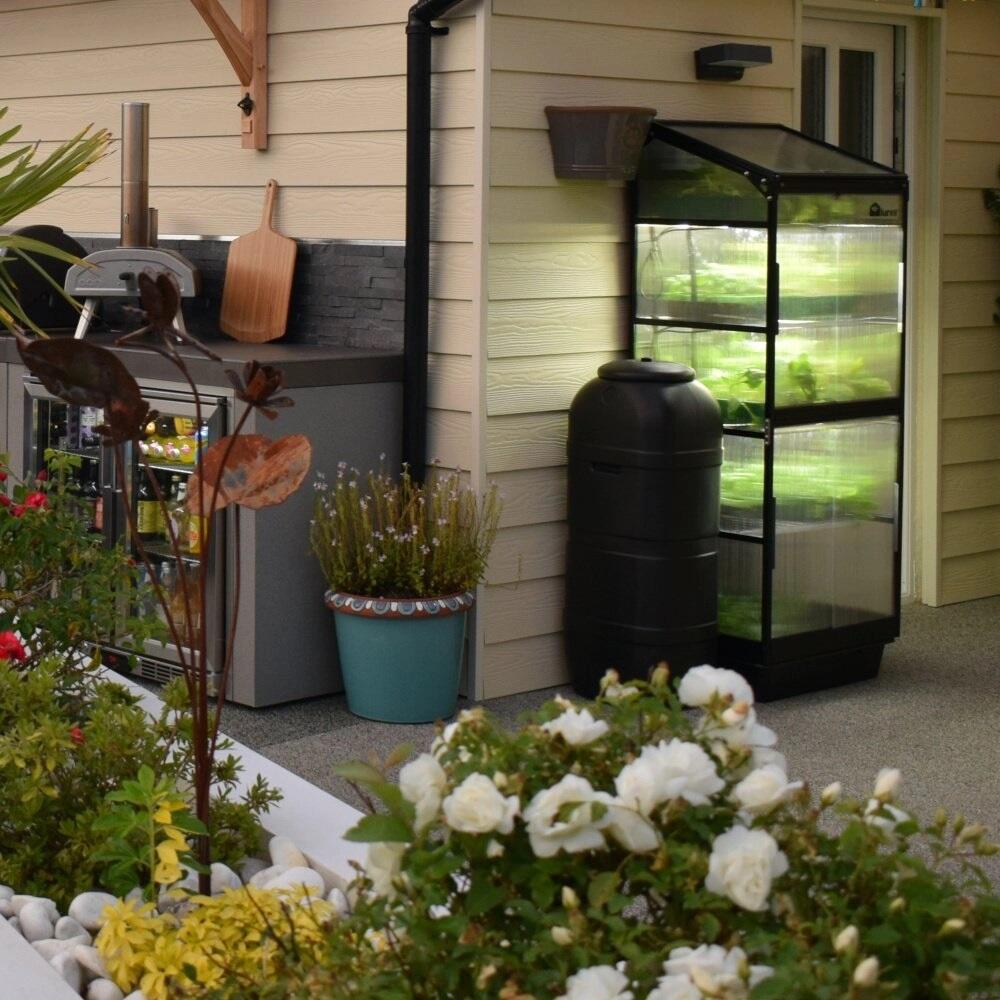 Using the Harvst web app for WaterMate
The fantastic thing about our specialised Harvst control system is that customers can easily connect it to the WiFi and record data in their account – which can be accessed from anywhere, even if you're on holiday! By adjusting your settings on the app, your greenhouse will follow the updates within just half an hour – all you need is an internet connection. With this advanced technology, you can also receive email alerts to inform you when your greenhouse temperature fluctuates too high or too low or if the soil gets too dry. This can help you monitor your plants' well-being and adjust your WaterMate settings to enable them to thrive.
Rounding up
Hopefully, you can now see why our Harvst range of miniature greenhouses is a must-have collection for gardeners ranging from those who simply like gardening as a hobby to those with a true passion for it. Fortunately, we're excited to announce that Harvst is set to expand its range of miniature greenhouse kits later on in 2023 – keep up to date with Harvst and stay tuned for its new releases!
If you have any questions about the products or anything else related to them, please contact us, and we'll respond promptly.